The purpose of EMRII is to reach the homeless or people at risk of becoming homeless, who are involved in repeat interventions with the police and display factors of vulnerability.
The members of this team also support or guide these individuals to the services appropriate to their needs, with the aim of improving their living conditions and facilitating their social re-integration.
An individual had been detained 22 times, was transported by Urgences-santé several times, and was the subject of about 60 9-1-1 calls for inappropriate behaviours in a public place—all over a five-month period.
This case is typical for EMRII. There are several steps involved in dealing with such situations, as well as coordination with both health and social services and the justice system.
The power of partnerships
The partnership with the CIUSSS of Centre-Sud-de-l'Île-de-Montréal has helped the stakeholders in the health care community understand the police side of interventions with the homeless and helped the police understand the health care perspective, ensuring the two organizations no longer work in silo.
It allows better concerted action within the expertise, mandates and limits of each of the players (justice system, social and health services, community environment). It helps reduce the number of repeat interventions with the same people and indirectly reduces tensions resulting from cohabitation problems.
EMRII is a great example of the integration of police practices in a continuum of multi-sectoral services.
Team
EMRII is made up of six police officers and five workers from the CIUSSS of Centre-Sud-de-l'Île-de-Montréal, including a nurse, a specialized educator, two social workers and a health coordinator.
The team has three mixed duos each consisting of a police officer and CIUSSS worker. The pairs share a patrol car and work together across Montréal.
Schedule

The three EMRII mixed duos respond to calls from front-line patrol officers or SPVM partners Monday to Friday, in the daytime, based on the complementary services' hours of operation.
Service offering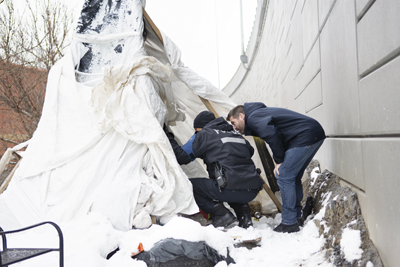 The EMRII mixed duos guide the homeless or people at risk of becoming homeless who are the subject of repeat police interventions to support organizations (health care or social services, day centres, shelters, food banks, legal support, mediation and community resources).
EMRII members also follow chronic cases. Moreover, they support patrol officers with local issues related to chronic cases. They are not emergency responders—they are second-line responders.
Other police and social workers work at the SPVM's Centre d'enquête Sud to ensure liaison with the judicial system, probation officers, detention officers, hospitals, medical clinics and detention centres (police officers, court houses and transition centres).
Number of EMRII interventions
Annually, EMRII ensures the constant follow-up of some fifty or so homeless people displaying factors of vulnerability and being the subject of repeat police interventions.
On average, front-line officers or partners handle some 28 calls per day, providing support or references for homeless people who are not the object of intensive follow-ups by EMRII. In these cases, the team assesses the situation and offers support for a response that is adapted to their needs. EMRII handles some 1,400 calls from front-line officers or partners each year.