Brigade des espaces publics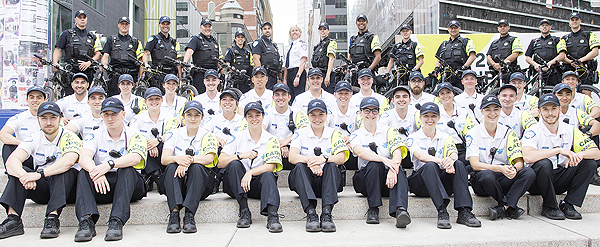 Montréal plays host to countless cultural and sport-related activities throughout the summer, and Service de police de la Ville de Montréal (SPVM), in keeping with its mission, ensures public safety during these events.
In order to offer full support for festive events, public orders, activities, and prevention campaigns during the summer, the SPVM established the Brigade Urbaine Unit in 2009.
Better known now as the Brigade des espaces publics, this unit is comprised of 24 police officers on bike, 4 cadet supervisors and 50 cadets, who are under the responsibility of commander Martine Dubuc, chief of police station 12.
All unit members have received a formation regarding homelessness, urban aboriginal reality, terrorist threat awareness, crowd control with police bicycle, drugs and new tendencies and ways to intervene with people in crisis.
With its Brigade des espaces publics, the SPVM offers all Montrealers an improved safety framework and a high-quality service adapted to these events clientele.