Homelessness is a phenomenon that is part of all major urban centres. Montréal is not exempt from this reality.
As they do not have their own personal living space, homeless people are often found in public places or private properties.
Cohabitation in urban spaces is a challenge for all.
SPVM patrol officers are called on more than 40 times a day—or 14,600 times a year—to respond to situations involving the homeless, who are often very vulnerable*1.
Police interventions with these individuals can happen at all times of the day, especially in public places such as the metro and commercial buildings. Between 50 and 60% of these interventions take place downtown, with the remainder in other parts of the city.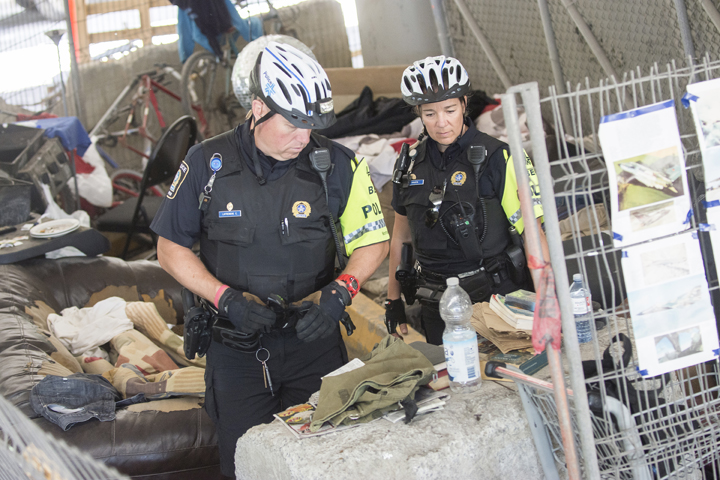 These interventions are often linked to these individuals' poor living conditions and issues such as substance abuse or multiple drug use, mental health problems, loss of autonomy, poverty and exclusion.
*1 The estimated more than 14,600 calls per year was determined using sample calls (manual count).
Police interventions in a continuum of services
Although these individuals sometimes commit infractions and crimes, they can also be victims, witnesses or in distress—all of which may require police intervention.
Police officers can reach these people where they are and provide them with access to the resources they need.
Cooperation between SPVM officers and players in health care, social services, security, law, institutional and community organizations remains key to providing the homeless with the support, help and assistance they need.
The SPVM's police practices with the homeless have been evolving for more than 20 years.
At the heart of these changes lies a constant concern for adapting police interventions to the people concerned in order to promote their access to services that meet their needs, avoid judicializing them in the event of minor infractions or ensure their experience in the judicial system is in line with their situation, if applicable.
Building bridges
As reported in the Mission Old Brewery 2017-2018 Impact Report, the SPVM and the organization helping the homeless in Montréal have built bridges following a sad incident.
Since2017, apartnership was created by way of various activities:
240 new SPVM recruits took part in Mission Old Brewery workshops aiming to help them adapt their responses to the realities of homelessness
800 police officers completed the organization's training sessions
2,345 meals were served by police officers in the cafeteria of the Mission Old Brewery's Saint-Laurent Campus.
This newly-enhanced partnership is part of SPVM's mission to ensure the safety of all citizens in its territory.
SPVM officers also serve meals in the cafeteria of other organizations, including the Welcome Hall Mission, Chez Doris and Le toit rouge.