Airport unit officer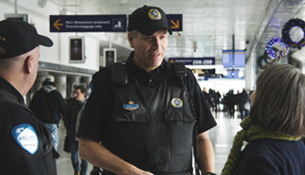 The SPVM unité aéroportuaire officers are responsible for ensuring safety in the Montréal-Trudeau airport and maintaining a sense of safety of airport passengers, customers and partners. On a daily basis, the officers patrol the various parts of the airport and they are a constant presence in control zones and loading areas. Their primary duties are to:
Respond to calls (stolen luggage, vehicles, conflict, fights, etc.)
Respond to alarms at search points
Investigate when prohibited items are found in cabin luggage
Make arrests, when required (carrying prohibited weapons, possession of narcotics, etc.)
Ensure follow-up for stolen luggage
Any criminal incident that takes place in the airport area is handled by the unité aéroportuaire police officers. The officers are on the lookout for safety issues in their patrol area and they intervene to resolve these problems. Through their work and interactions with the people who pass through and work at the airport each day, the airport unit officers contribute to maintaining the friendly environment, accessibility and flow of these unique and special areas, through their very nature and purpose.
As front-line officers, the unité aéroportuaire police officers carry out the the initial steps in a criminal investigation – meeting with witnesses, taking reports, etc. They call upon other emergency units and proceed with arrests, when required.