Neighbourhood road safety officer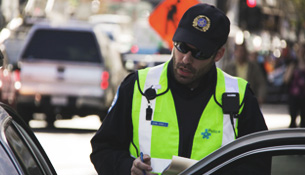 There are local police officers – Road safety in each of the 31 SPVM local police stations. They are a responder and resource person for traffic flow and safety for those using the roads (pedestrians, cyclists, and motorists) in their area's road network.
The local police officer for road safety gets involved when a road safety issue is identified and takes the necessary measures to ensure the safety of the public on the road network.
The officer's role involves:
Identifying at-risk areas and the problems affecting traffic or road safety in the neighbourhood served by the officer, and suggesting solutions
Watching out for concerns of the public in the neighbourhood in terms of road safety and communicating this to his/her colleagues and supervisors at the local station
Providing support and personal expertise to his/her police colleagues
Making sure that the laws and regulations are respected for road safety; to do this, the officer carries out speeding detection operations, issues tickets, takes part in collision scene analyses, etc.
Working closely with representatives from the borough to identify lasting solutions to traffic or road safety problems
Coordinating activities related to school crossings and managing crossing guards: carrying out performance evaluation scheduling for crossing guards; identifying and applying the necessary measures to reduce the dangerous nature of intersections; determining the location of crossings for school children.