Marine patrol officer – Road safety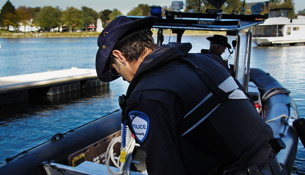 The marine patrol officer ensures the safety and proper coexistence of those who use the waterways surrounding the Island of Montréal. The marine patrol officer is a first-line responder on the waterways. This officer patrols the area, which is divided into three sectors:
Lake Saint-Louis and the Lachine canal
St. Lawrence River and the eastern part of Rivière des Prairies
Lac des Deux Montagnes and the western part of Rivière des Prairies
During these patrols, the marine patrol officer ensures that the Criminal Code, certain provincial laws and municipal by-laws are respected. The marine patrol officer – road safety enforces the Canada Shipping Act, in addition to other applicable laws and regulations, in particular the Criminal Code and the various provincial regulations and municipal by-laws. The officer also conducts boat inspections and operations that target the application of certain regulations. The officer carries out patrol duty and responds to calls according to the particular nature of the marine environment. This is an expert in the marine environment who provides support to police officers from other SPVM units when required.
The marine patrol officer also assumes an important role in search and rescue operations in missing persons cases. These officers work closely with various partners, including the Canadian Coast Guard, the Coast Guard Auxiliary, the Montréal Fire Department, Sûreté du Québec, Urgences-santé, Transport Canada and Parks Canada.
Outside of the regular patrolling season (May to October), the marine patrol officers - road safety work to achieve the objectives of the road safety department for the Montréal Island. These officers are assigned to local police stations to carry out the necessary activities for enforcing the Highway Safety Code or radar operations. In the fall, they also enforce regulations in respect to the use of firearms during hunting season. In the winter, weekly patrols are conducted on the frozen waterways.