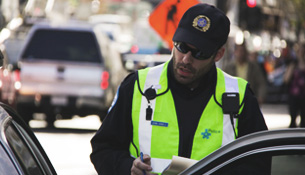 Traffic patrol officers are police officers assigned to road safety. They are located in the four SPVM regional operational centres. Each day, they patrol the West, South, East and North areas of the Island of Montréal, depending on their assigned area.
The primary mission of traffic patrol officers is to actively contribute to achieving the department's road safety objectives. To accomplish this, traffic patrol officers implement and participate in various activities and operations - radar operation, drinking and driving operation, prevention and intervention program - all for the purpose of ensuring that the Highway Safety Code is respected and thereby ensuring the safety of everyone on the road (pedestrians, cyclists and motorists). This means that each day, they take part in resolving traffic problems in the Island of Montréal area.
Traffic patrol officers also play a critical role in maintaining the flow of Montréal's road network. They carry out systematic traffic control at strategic, targeted areas to make it easier for cars to get around in the city. Therefore, traffic patrol officers carry out the following activities:
Direct traffic at peak hours at determined intersections
Monitor reserved traffic lanes
Provide a presence that acts as a deterrent to prevent infractions
The skills of traffic patrol officers are also used at major events or large-scale public events, for example: fires or major accidents, sporting events (marathon, Tour de l'île, etc.), demonstrations, parades, etc. At these major events or gatherings, traffic patrol officers make sure that traffic is diverted, access to certain traffic lanes is blocked and traffic perimeters are set up to maintain the flow of traffic and limit the impact of these events on the people of Montréal in getting around.
Traffic patrol officers provide their expertise to the local police stations in their area, including activities such as major events that require traffic plans or traffic perimeters to be set up or in carrying out their traffic and road safety plan.