Collision Reconstruction Officer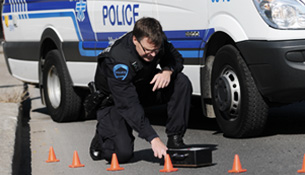 The reconstruction officer's work consists of visiting the scenes of collisions involving a death, serious injuries or the possibility of criminal charges. His task is to determine the causes and circumstances of the collision based on physical evidence on the ground, expert opinions regarding the vehicles, and examination of the infrastructures involved.
The collision reconstruction officer assists the collision investigators. He/she inspects the collision scenes to find any clue that could help them determine the causes of the incident. For this purpose, he gathers and identifies all the physical evidence he/she finds on the scene, such as:
Debris associated with the vehicles involved
Tracks on the ground
Airbag data
The mechanical condition of the vehicles
Organic materials
On the scene of the collision, he also takes measurements, photographic readings and a Cartesian reading of braking tracks, and produces scale plans of the scene. These measurements allow him to determine the speed of the vehicles by complex calculations, reconstruct the trips and find the points of impact. Each type of collision and vehicle requires special expertise. His work makes it possible to determine whether criminal charges are justified against the persons involved.
The reconstruction officer also plays a role as an expert witness in court. He prepares a report containing all his observations and demonstrates the sequence, the process and the causes of the collision, according to the evidence gathered and the results of his analyses.