A pilot project to reduce the risk of intoxication and to prevent excessive consumption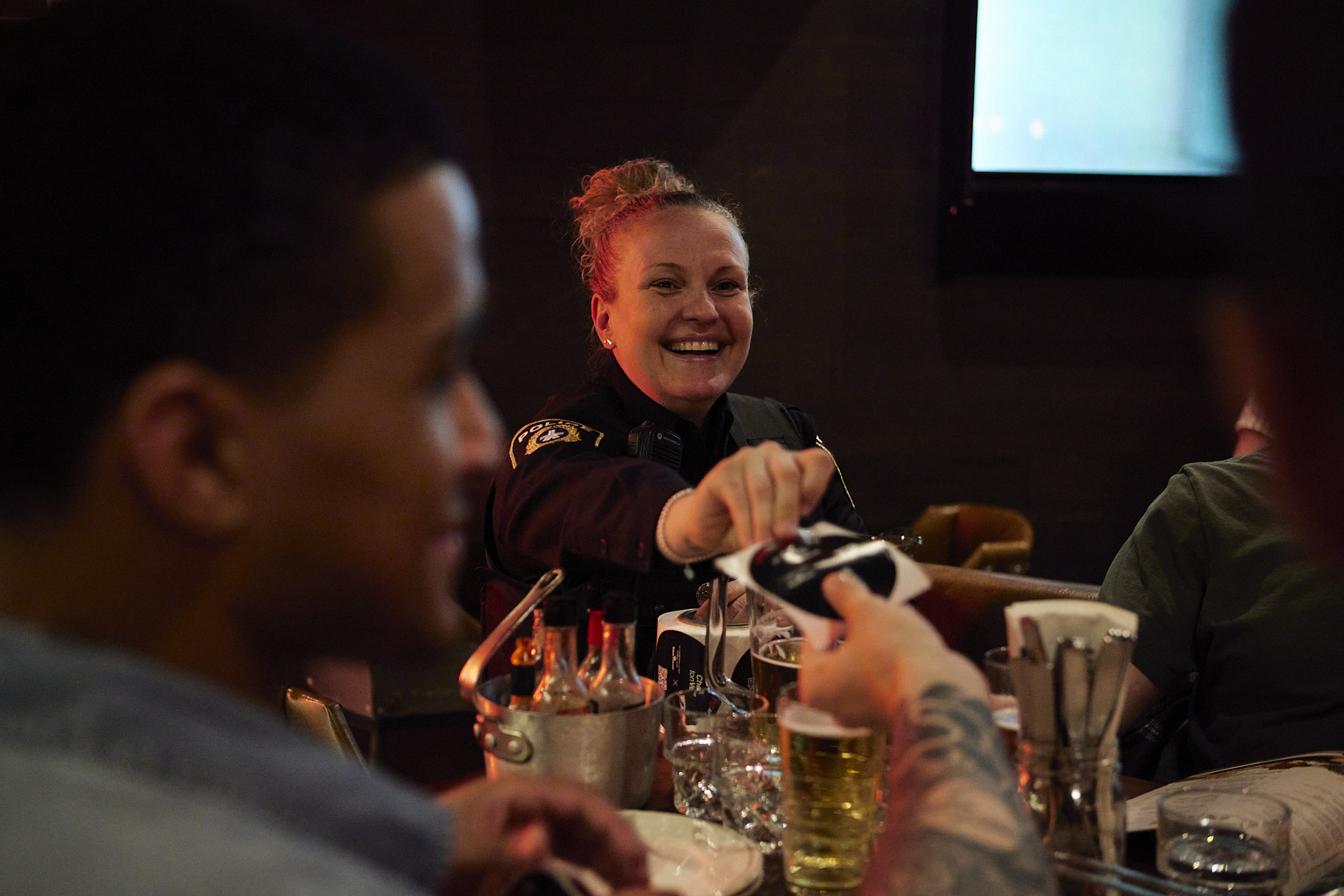 21 april 2023
Éduc'alcool and the Service de police de la Ville de Montréal (SPVM) launched the "Check ton verre" pilot project yesterday in the presence of François Bonnardel, Minister of Public Security of Québec. This initiative takes the form of a free distribution of 10,000 glass protectors to, among other things, protect consumers from having illicit substances added to their drinks without their knowledge. The objective is to reduce the risks of intoxication by providing tools to the population and to prevent excessive alcohol consumption, while many people turn to shooters notably to avoid having to watch their drinks.
The glass protectors will be distributed during a vast tour of bars in Montréal, the first of which took place last night. In addition to Minister Bonnardel, Geneviève Desautels, Executive Director of Éduc'alcool, and Sophie Roy, Assistant Director of the Criminal Investigations Branch of the SPVM, took part in the event. In the coming months, the distribution will continue in licensed establishments in the city and at certain events.
A decisive role for everyone
"Check ton verre" focuses on preventing alcohol consumption among a younger clientele. It also aims to reduce the risk of overdose and hospitalization following the voluntary or involuntary ingestion of illicit substances, or excessive alcohol consumption. It also emphasizes the importance of reporting an unintentional intoxication event to the police to help keep everyone safe.
For witnesses, people who intoxicate others without their knowledge, and victims, the pilot project draws attention to individual responsibilities, but also to collective actions regarding alcohol consumption. It does not aim to put the burden on potential victims, but rather to make them aware of the need to adopt safe and responsible behaviors. The project also wishes to demonstrate that everyone is concerned and that each and everyone can really play a determining role and can contribute to ensure the safety of their peers by a simple act of mutual aid.
Moderation tools included
The glass protectors developed for the "Check ton verre" pilot project inform and raise awareness among the public about alcohol consumption. A QR code redirects consumers to the Calcoolateur, a moderation tool developed by Éduc'alcool. This tool allows people to track their blood alcohol level or to calculate it in advance based on the amount of alcohol they plan to consume.
Éduc'alcool's contribution to this pilot project aims to raise awareness of alcohol-related risks and provide resources to help young and old alike make informed choices about alcohol.
An easy-to-use tool for all situations
The glass protector fits many types of glass. It can quickly become a must-have for any night out that involves alcohol consumption. This new tool is simple to use and easy to carry, making it practical for bars, festivals, parties and more. The glass protector is made of aluminum and is therefore recyclable.
To further protect consumers against the addition of illicit substances in their drinks and thus increase their safety, it is important to increase awareness efforts and tools. The glass protector is one of them.
Quotes
"The Éduc'alcool approach aims to help young people become aware of their relationship with alcohol. The "Check ton verre" initiative does just that by raising awareness of the context in which alcohol is consumed and by taking action to prevent the risks associated with excessive drinking. It is a pleasure to work alongside the SPVM and the Ministère de la Sécurité publique to promote this project and to support young people in drinking safely and responsibly. We hope that one of the outcomes of this pilot project will be to encourage licensed establishments to commit to taking responsibility for systematically putting glass protectors on the drinks they serve."
- Geneviève Desautels, Executive Director of Éduc'alcool
"For many years, the SPVM has taken the issue of synthetic drugs and intentional or unintentional intoxication very seriously and we are working hard to address it, both in terms of prevention and enforcement. Over-consumption of alcohol, which we regularly witness, is also of great concern to us. This pilot project allows us to join forces with Éduc'alcool and the Ministère de la Sécurité publique to make everyone aware of the actions and means available to them to drink safely and responsibly, to protect themselves and even to protect those around them."
- Sophie Roy, Assistant Director of the Criminal Investigations Branch at the SPVM
"Administering GHB or any other synthetic drug without a person's knowledge is a crime and we will work to eliminate these events. In the meantime, I want to provide those who want to ensure their own safety with the tools at their disposal. I would also like this pilot project to encourage the industry to adopt a caring approach towards its clientele and the victims. That's why I'm happy to support the Éduc'alcool and SPVM initiative; we're taking concrete action so that Quebecers can celebrate and have fun in a safe way."
- François Bonnardel, Minister of Public Security
About Éduc'alcool
Éduc'alcool is an independent, non-profit organization whose mission is to inform, equip and educate Quebecers about alcohol use. Its approach is to promote and encourage responsible drinking and to influence collective action on alcohol issues. Éduc'alcool raises public awareness about drinking patterns and takes action to prevent high-risk drinking. Based on scientific facts, Éduc'alcool always strives to appeal to the intelligence of the public and to disseminate accurate and accessible information through its information and awareness campaigns.
About SPVM
The SPVM is a front-line responder to the Montreal Island community 24 hours a day, 7 days a week. More than 6,000 civilian employees and police officers work together to meet the security needs of the citizens. The SPVM serves a territory of 496 km2 inhabited by more than 2 million people. It has adopted the neighbourhood policing model, which draws on the principles of community policing and places the citizens at the heart of its organization.
Find out more Go out safely