Team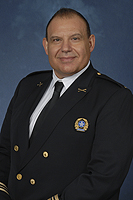 Luis Oliveira,
Chief of PDQ 8
Contact our team by email : pdq8@spvm.qc.ca
As a result of the new service coverage plan unveiled by the SPVM, PDQ 8 now has a new team of police officers who will be able to provide important services to our residents. This team - the Module d'actions par projets (project action module or MAP) - will reinforce police interventions on a broad series of issues.
A special telephone line: 514-280-9308 has been set up for citizens who wish to provide information to the police, anonymously or otherwise. We encourage our residents to use it.
Total number of staff

55 persons

Lieutenant
Julie Lavigne
Community relations officers

Carlota Santos
Stéphanie Morin

Traffic safety officer

Claude Rémillard

Responsable VCI (violence conjugale et intrafamiliale)

Roxanne Lalande