E=MC2: an innovative partnership serving people who are homeless (spokespersons available for interview)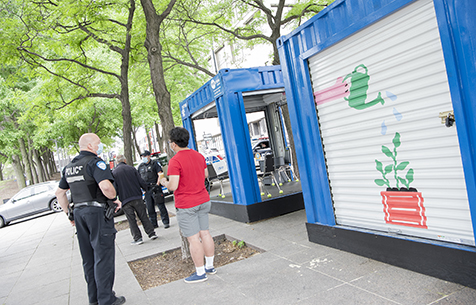 Montréal, July 21, 2020. - The neighbourhood police station (PDQ) 21 of the Service de police de la Ville de Montréal (SPVM), the CIUSSS of Centre-Sud-de-l'Île-de-Montréal and the Société de développement social (SDS) are deploying the Équipe multidisciplinaire de concertation communautaire (E=MC2) [Multidisciplinary Community Concertation Team] at Les Jardins Gamelin until September 28, 2020. This pilot test is made possible thanks to the financial contribution of Info-Crime Montréal as well as to the collaboration of the Ville-Marie borough and the Partenariat du Quartier des spectacles, which host E=MC2 on the Les Jardins Gamelin site.
E=MC2: a new avenue
Many people in this sector are homeless or at risk of becoming homeless. In addition to their very precarious living conditions, these people often have to deal with other vulnerability factors such as drug addiction, mental health problems, prostitution, poverty and exclusion.
The partners of the Équipe multidisciplinaire de concertation communautaire are set up at Les Jardins Gamelin in three separate containers, which have been converted into service counters (modules). They offer services adapted to the needs of vulnerable people, wherever they are, in their living environment, seven days a week.
Prevention, basic and referral medical services, psychosocial support, mediation and crisis management: the partners of E=MC2 intend to facilitate the access of these people to the health, social and community services network, to guide and accompany them to assistance resources. Disaffiliated from institutions, vulnerable people in the sector will thus be able to benefit from services that they will not necessarily seek themselves.
E=MC2: complementary and concerted action
Police intervention alone cannot provide an appropriate response to the complex situation of people who are homeless or at risk of becoming homeless. Although several organizations already work in the sector with people in precarious situations, the deployment of E=MC2 aims to promote the complementarity of police service interventions with those of partners in the health, social services and community environment as well as ensuring a physical presence of services at Les Jardins Gamelin. In this context, collaborations are essential in order to carry out concerted action within the expertises, mandates and limits of each.
On the initiative of PDQ 21, the Équipe multidisciplinaire de concertation communautaire is composed of patrollers, community relations officers and an SPVM community consultation officer, social workers who can be paired with CIUSSS nurses or educators and SDS social mediators who already work with the occupants of Les Jardins Gamelin. Other organizations will also join E=MC2 on a sporadic or regular basis such as Urgences-santé and the Centre for the Prevention of Radicalization Leading to Violence, in particular.
E=MC2: a shared responsibility
For the SPVM, E=MC2 demonstrates its ability to adapt its interventions to the social realities of vulnerable people by focusing on a shared responsibility with its partners when it comes to public safety issues. In addition, this initiative draws on expertise developed over the years, in collaboration with numerous partners, within the ÉMRII (Équipe mobile de référence et d'intervention en itinérance) [mobile referral and intervention team for the homeless] and the ÉSUP (Équipe de soutien aux urgences psychosociales) [psychosocial emergency support team], for example.
Quotes
"Place Émilie-Gamelin is a unique gathering place in the city where different realities and needs intersect. Our administration is making every effort to foster social coexistence in public spaces and put in place the conditions and resources necessary to improve the living conditions of marginalized and homeless people. The groundbreaking E=MC2 project will address the specific challenges of this area and support our administration's vision of a police force focused on prevention, cooperation and the community."
Robert Beaudry, City councillor for the Saint-Jacques district in the Arrondissement de Ville-Marie and Executive committee member responsible for housing, real estate strategy, large parks and parc Jean Drapeau


"While favouring a different occupation of a public space, E=MC2 will allow all workers to better intervene with vulnerable people in the sector. This will help reduce the number of repetitive interventions with the same people, and indirectly reduce tensions to ensure harmonious cohabitation and strengthen the sense of security."
Cédric Couture, inspector
Service gendarmerie Sud-Ouest, SPVM
"The E=MC2 project is an innovative and community-based way to facilitate access to health and social services. In line with the urban health approach of the CIUSSS of Centre-Sud-de-l'Île-de-Montréal, this unifying and interdisciplinary project is an opportunity to continuously improve our outreach and support for marginalized and homeless people."
Jason Champagne, director
Direction Programmes Santé Mentale et Dépendance
CIUSSS of Centre-Sud-de-l'Île-de-Montréal
"The SDS is proud to be part of this pilot test, E=MC2. As social mediators, we believe that a multidisciplinary team can only be beneficial and enhance our role as psychosocial workers, allowing us to offer more comprehensive services to people in precarious situations or who are homeless. Social coexistence is our primary mandate and this project is entirely in line with our vision, that of being able to work together to improve the situation of the people who need it most."
Janik Fortin, Head of Services d'intervention sociale
Société de développement social
"One of the main objectives of Les Jardins Gamelin was to revitalize Place Émilie-Gamelin to make it a space of coexistence and meeting for all. The success of Les Jardins Gamelin is largely due to the spirit of collegiality and the exemplary collaboration of several community stakeholders, including the Ville-Marie borough, Service de police de la Ville de Montréal, Sentier Urbain, Société de développement social as well as the staff of Les Jardins Gamelin. We are very pleased that E=MC2 is taking shape at Les Jardins Gamelin where all employees can continue their role of social mediation and intervention on site by sharing their expertise to better meet the needs of clients at this site."
Marc Randoll, Acting Director of Operations and Technology
Partenariat du Quartier des spectacles
Find out more
E=MC2: an innovative partnership serving people who are homeless
Info-Crime Montréal
CIUSSS du Centre-Sud-de-l'Île-de-Montréal
Société de développement social (SDS)
Arrondissement de Ville-Marie
Partenariat du Quartier des spectacles
-30-
Source:
Media relations module, SPVM
relations.medias@spvm.qc.ca
To request interviews with spokespersons representing partners other than the SPVM:
Media Relations, CIUSSS of Centre-Sud-de-l'Île-de-Montréal
514-376-3748 (From Monday to Friday , from 7 a.m. To 5 p.m.)
514-528-2477 (evenings, weekends and holidays)
relations.medias.ccsmtl@ssss.gouv.qc.ca
Janik Fortin, Head of Services d'intervention sociale, Société de développement social
514-592-9633
janik.fortin@courtier.social
Media relations, City of Montréal
514-872-4946
relationsmedias@ville.montreal.qc.ca
Marie Lamoureux, Acting Director of Communications and Marketing
Partenariat du Quartier des spectacles
514-923-6772
marie.lamoureux@quartierdesspectacles.com