SPVM publishes its 2018 Annual Report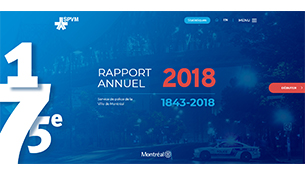 11 june 2019
The Director of the Service de police de la Ville de Montréal (SPVM), Mr. Sylvain Caron, presented today the SPVM's 2018 Annual Report at a public meeting of the Commission de sécurité publique (CSP).
This document brings together the statistics of the SPVM's activities for the past year and presents the highlights, key issues and achievements of SPVM members. « The annual report reflects the vitality of the SPVM's great team, our true commitment to excellent service to the public and our enthusiasm to meet the challenges that lie ahead. » explains the director, Sylvain Caron.
The SPVM 2018 Annual Report can now be consulted.