Flik, the bear who wanted to become a police officer
On May 15, 1987, a bear cub was born right here in Montréal, at the foot of the cross on Mount Royal.
The bear was the youngest member of a long line of bears who for generations had always been police officers. His father, Polinours, had been the official mascot of the Service de police de la Ville de Montréal (SPVM) for several years already.
From his earliest childhood, the bear cub was interested in safety and prevention, and he dreamt of becoming the SPVM mascot like his father and his grandfather before him.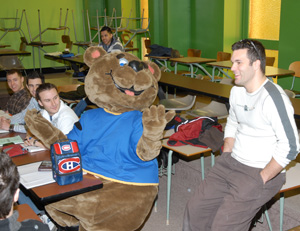 His eyes were full of admiration every day as he watched his dad put on his SPVM uniform. In the evening, in the family's quaint little house in the woods on Mount Royal, he sat at his window, staring out at the scenery and dreaming of the day when he, too, would go and meet the citizens of Montréal and teach them about safety and prevention.
The bear cub grew up and after he finished high school, he enrolled in the policing techniques program at the Cégep de Maisonneuve. For three years he learned all about how to be a police officer. After passing all his courses, he took a course at the École Nationale de police du Québec, like all police officers, getting even closer to his long-cherished dream.
After years of work and studying, the bear cub's dream finally came true last May XX, when he joined the ranks of the Service de police de la Ville de Montréal.
Polinours, the cub's father, decided to retire, after serving the SPVM for more than 30 years. At last he could leave his position with peace of mind, knowing that his son would be taking over. Finally he was able to devote his time to hissecond favourite hobby - after prevention and safety: salmon fishing.
The bear cub - who has in fact become a bear by now - became the SPVM's new mascot. But there was one more problem: he needed a new name! His real name in bear language is too hard for us humans to pronounce, so a contest was held to find a name that human Montrealers can learn and use. And that's how a nine-year-old girl came up with the name FliK!
FliK is a proud ambassador for the Service de police de la Ville de Montréal. Every day he puts on his uniform and sets out to meet Montrealers at public events, in parks and in schools.