Strong demand for the catalytic converter identification clinic at PDQ 9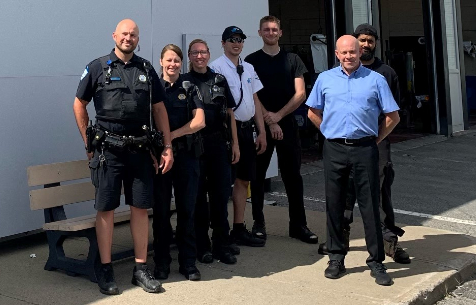 08 july 2022
On Wednesday, July 6, a catalytic converter identification clinic aimed at preventing theft was organized by the community relations officers of PDQ 9 in partnership with the SPVM's Urban Prevention and Security Division, Info-Crime Montréal, and Équité defending against insurance crime, in collaboration with Gordons Tires located at 2125 boul. Cavendish. More than 50 residents of Notre-Dame-de-Grâce, Côte Saint-Luc, Hampstead and Montreal West were able to take advantage of this initiative.
The PDQ 9 team was mobilized to support officers Ann-Nathalie Côté, Isabelle Dubé, Marie Christine Nobert and Angela Rankin and meet the high demand: bike patroller, cadets and advisor! Officers André Belotte and Nadine Corbeil also joined the team to meet citizens and raise their awareness of car theft prevention.
Vehicle owners underlined the importance of this clinic and thanked local station 9! We in turn thank the owner of Gordons Tires and all the employees who worked tirelessly throughout the day to identify the catalytic converters. Hoping to be able to repeat the experience soon!