Parking officers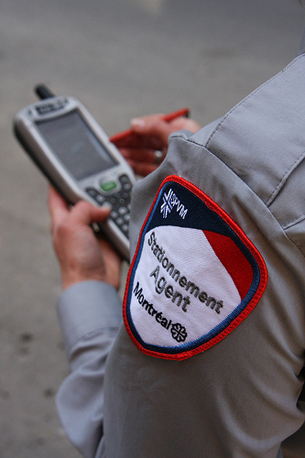 The Section de l'application de la réglementation du stationnement (SARS) was established in 1977, with approximately 20 parking officers. SARS was integrated with the SPVM's Division de la sécurité routière et de la circulation in January 2007.
Today, the staff is made up of equal numbers of men and women. In the summer months they are over 200 employees and in winter, around 900 employees (including the towing attendants who work during snow removal operations).
Every year, parking officers respond to over 30,000 calls from citizens seeking their assistance. The calls involve :
Vehicles illegally parked in residential zones where a permit is required.
Vehicles illegally parked in reserved handicapped parking areas and in front of driveways.
Infractions related to reserved bus or taxi zones.
The fleet includes 113 vehicles, two electric vehicules and 15 bicycles. The section makes use of some of the very latest technology, such as the Computerized Ticketing System (SÉCI).
The parking officers work with the 20 neighbourhood police station (PDQ) in the former boroughs of Montréal.