School Crossing Guards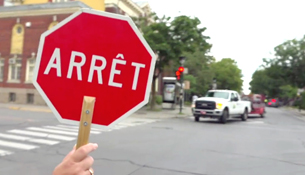 The Service de police de la Ville de Montréal is constantly seeking candidates who would like to be on-call school crossing guards for neighbourhood police stations.
JOB SUMMARY
Reporting to the commander of the neighbourhood police station (PDQ), the school crossing guard monitors students crossing intersections to and from school in order to prevent traffic accidents. He or she ensures the safety of students and teaches them safety rules.
NATURE OF THE POSITION
Occasional (on call) school crossing guard position to replace permanent school crossing guards.
Irregular schedule (example):

Mornings from 8 to9 a.m.
Middays from 11 a.m. to 1 p.m.
Afternoons from 3 to 4 p.m.
APPLYING
If you are interested on becoming an on-call school crossing guards, fill out an application form on the Internet on the Ville de Montréal website.
You have at your disposal a guide to help you apply online.
For more information do not hesitate to contact us by phone at 514-280-3210, or by email at brigadier.scolaire@spvm.qc.ca.